GOSPEL MESSAGE
"Now I would remind you, brothers, of the gospel I preached to you, which you received, in which you stand, and by which you are being saved, if you hold fast to the word I preached to you—unless you believed in vain. For I delivered to you as of first importance what I also received: that Christ died for our sins in accordance with the Scriptures, that he was buried, that he was raised on the third day in accordance with the Scriptures . . ." 1 Corinthians 15:1-4
The word gospel means "good news." The good news is that there is good news in Jesus Christ! God has not left us in the dark about how a person can have eternal life. He has told us that the ONLY way that a person can have eternal life is through a person, Jesus Christ. God, who is holy, just, and righteous, has made a way for man who is sinful, lost, and depraved to know Him and have life! The passage above is the most succinct summary of the gospel in the whole Bible: the man Jesus, died on a cross in our place, paid the penalty for our sins (he actually was punished with God's wrath, that we deserved); three days later He rose and conquered sin and death and give the gift of salvation to all who believe in Him alone for eternal life. Whether you believe this or not it is true.
Another thing that is true is that the death rate is 1 to 1. This means that we are all going to stand before God and answer for the life we have lived. How will you answer? How do you know if you will be welcomed into heaven? Do you trust in your own goodness and good deeds? Who are you living for? Maybe you think that you are a good person because you are nice, contribute money, go to church, have been baptized, have confessed your sins, walked an aisle, said a prayer, or were assured by a priest, parent, or friend that you would make it based on being a good person or making a good decision. Sadly, many people trust in the things I have mentioned above, but they cannot make anyone right with God.
Eternal life can only come from Jesus Christ, the sinless Son of God. He is fully God and fully man; He died for our sins and rose again so that there is no condemnation for those who believe in Him. That is the gospel in one sentence. So much more can and must be said, but the gospel is also a simple message. It is a message for everyone, not for the good, privileged, wealthy, or religious. The gospel is for you. That's right, no matter what you have done or thought, no matter where or how you grew up; no matter what you haven't done or should have done it is for you. The gospel is for murdering, thieving, lying, sexually immoral, idolatrous, greedy, violent, religious, proud, self-absorbed, and ____________ people (you fill in the blank). Do any of these adjectives describe you? If so (and they describe every human ever), there is hope. The hope is the gospel, the hope is Jesus. Jesus Christ came to give life to dead souls, and apart from Jesus no one can be made alive. This means that eternal life is not religion + Jesus or Jesus – anything. Eternal life is given by God alone, through Christ alone. While God alone gives eternal life, it is your responsibility to believe (trust/have exclusive faith) in God's mercy, goodness, and grace, and not in yourself.
Theologian Martin Luther said that people are prone to pursue a relationship with God in one of two ways. The first is the way of religion/spirituality; the second is the gospel, which leads to life. These two different ways are opposed to each other in every way. See a comparison below: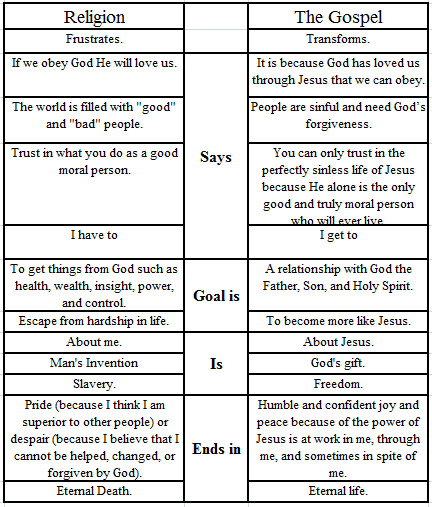 What or who are you trusting in? Do you believe the gospel or religion? Jesus said that He is "the way, the truth, and the life" (John 14:6). There is forgiveness, hope, and life in Jesus for all who believe. Will you trust Him? Will you follow Him? Will you make pursuing God a priority? Wewould love to talk to you and help you in your pursuit of God. Our prayer is that Jesus Christ would become your Lord, savior, and treasure.